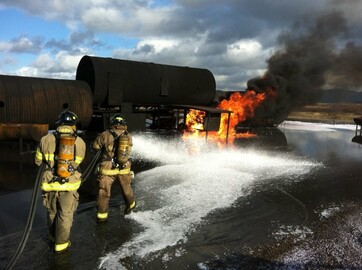 Stephenville Fire Department
The Stephenville Fire Department provides fire prevention, suppression, ice water rescue, extrication, airport rescue and firefighting, road and traffic responses, medical responses, public education, mutual aid and additional emergency protection to Stephenville, Cold Brook and Noel's Pond.
The Department comprises 1 Fire Chief, 1 Deputy Fire Chief, 8 Full-Time Paid Firefighters, and Auxiliary Firefighters. Our station is staffed 365 days a year, and you can reach us for an emergency by dialling 9-1-1.
Our crews are dedicated community members and strive to provide efficient services.
On Thursday evenings from 7:00 pm – 9:00 pm, we do weekly auxiliary training that ensures our equipment, apparatuses, and crews keep up with training techniques and are ready to respond for you.